"Sourcing inspiration happens for me all day, everyday. I'm inspired most by old movies, interiors, vintage looks and color palettes in everyday life. When designing a new style I always start by asking myself what I would want to wear everyday. What is missing from my everyday wardrobe?"
"Oftentimes inspiration comes from happy mistakes in the development process itself. A simple miscalculation in any step can inspire a new wash or silhouette. I work closely with our pattern makers, sewers, wash technicians and embellishment teams to capture these special moments as they happen."
Our denim fits undergo many pattern adjustments in the development process. Fittings always happen in raw fabric to ensure we are fitting the most accurate version of the jean.
Our Tate fit took 52 fittings over a 12 month period to perfect. Our goal was to create a jean as legendary as the Levi 501- timeless and durable.
Our raw cotton fabric is unrolled, laid flat and laser cut according to the precise measurements of our pattern. Each piece is cut separately and then sewn together into a finished jean.
The sewing stage is the most important. There are many intricate details to keep in mind and every centimeter counts- especially around the butt. At this stage our back pocket deco-stitch is applied.
The jeans are now fully constructed but the denim is still raw. 
The wash process is what makes the denim look and feel like the jeans you see everyday. In washing, water essentially chips away at the dark raw indigo to reveal a lighter color. Stones are often used in the wash to create some extra friction. This leads to a unique look and a broken-in hand feel quality. 
There are endless formulas for washing a jean to help achieve the desired final look. This is a very technical skill that most wash technicians have been practicing their whole lives. Their job requires precision and intuition to get it right each time.
The most beautiful part of this process is that no two jeans wash exactly the same, making each and every pair unique. 
This stage is the longest as our embellishments are all completed by hand. Each embellishment type requires a different complex process.
To accomplish our signature painted stripes, we must re-open the leg seams of each finished jean in order to lay them completely flat. Thorough preparation including mixing paint and aligning is the next step. Once all is properly set up it can take hours to paint each stripe on our rainbow painted jeans.
Our popular Appliqué embellished jeans follow a different procedure. Once the jeans are constructed and washed, the back pockets are then completely removed. Fabric panels can then be neatly hand-applied to the back of each leg.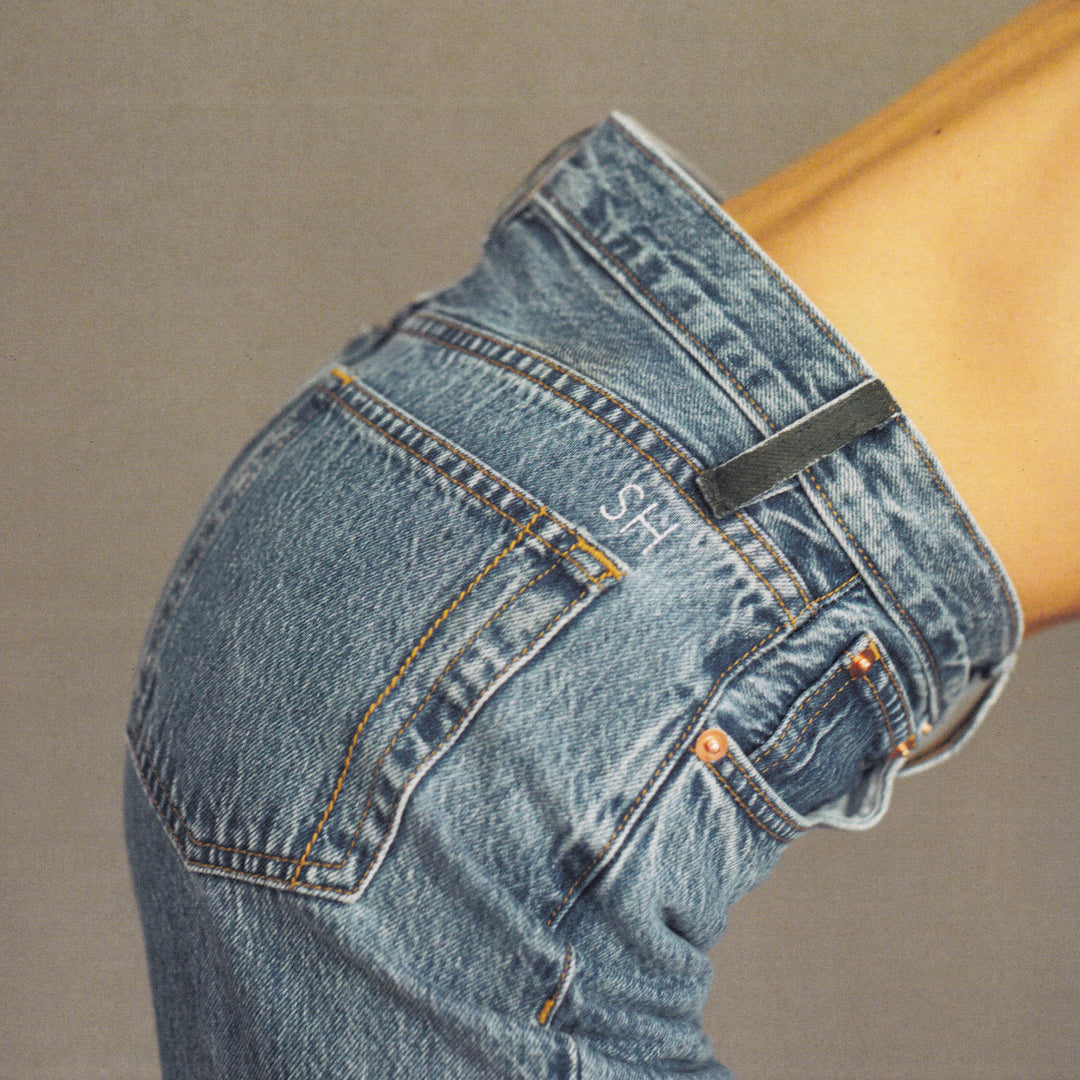 The final stage is finishing, where the jeans are trimmed of all their spare threads and undergo inspection for quality approval.
Final touches such as our custom buttons, rivets and labels are applied. Our flasher tags are hand stamped and numbered by batch.
Our SH embroidery is the closing detail on each jean. We see it as our signature at the end of an extensive but purposeful process.